.
Quick Scroll To:
The SEDRIS Organization is pleased to offer multimedia presentations of selected SEDRIS technologies, tools, and other related topics. These presentations integrate audio and/or video on the same CD-ROM, synchronized with the tutorial slides as they were presented at a SEDRIS Technology Conference (STC).
---
TUTORIALS
For those tutorials that provide integrated audio and video, the video clip appears in the Windows Media Player pane in the upper left-hand corner. Directly below the video clip is an index listing of the tutorial slide titles. The tutorial slides appear in the large right-hand pane. Progression of the tutorial slides is synchronized with the audio/video, or the user may select a particular point to jump to in the tutorial by selecting the appropriate slide title from the index listing.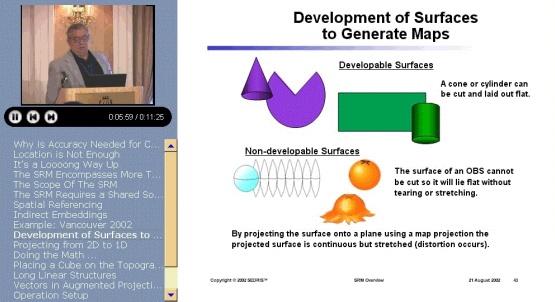 For those tutorials having no video, progression of the tutorial slides is synchronized with the original audio sound track from the conference.
These tutorials are packaged either one per CD, or as part of a two-CD set (Disc 1 contains tutorials, and Disc 2 contains other STC Panels & Presentations sessions). Click on the links below for a description of each tutorial before ordering. To request one or more CDs, e-mail the SEDRIS Help Line (help@sedris.org) with the title(s) desired.
* Audio only (all others have integrated audio & video)

---
SYSTEM REQUIREMENTS
The tutorials can be played in standard CD-ROM drives, and require:
Internet Explorer 5.0 or higher
Windows Media Player 6.4 or higher
QuickTime 6 or higher
Adobe Reader 6.0 or higher
1024 x 768 or greater screen resolution
---
USAGE
The CDs should start automatically once loaded in the CD-ROM drive. If a CD does not start automatically, double-click on the "scan.hta" file or the "autorun.exe" file (depending on which CD-ROM set you receive).
.
Return to: Top of this Page
.
Last updated: May 14, 2009
.